So, today we drove out to Oasis Vape in Albuquerque and bought me a Vamo V2. Variable voltage, variable wattage, and they call it "variable battery" in that it can use an 18650, an 18350 or two 18350s.
They were out of chargers, so, I had to wait until we got back to Rio Rancho, went to our usual Route 66 Vapor and got a charger. Got home, put the battery on and no red light. Drove all the way back to Oasis, showed them, they found out the battery was bad and gave me another. Oasis and back plus time in-store is about an hour each time so it was a lot of driving time today. (Made possible by my newly replaced license.)
This is not my first mod but the first I've bought. I've been using a Prodigy V3.1 @ 6V for about a year but it was given to me. Before that was a couple years of nothing but eGos – from a 650 to a 650 pass through to a 900 pass through with maybe a couple in between. So, this really is only my third mode of vaping in as many years. I find what works and stick with it. I've been convinced for a long time that I wanted variable voltage and now I have it so I'm happy. It's a huge device but, meh. (If I swap out the battery with an 18350, the lower part of the tube is removable and it'd be only a little bit longer than my Prodigy.)
Showing here with my Prodigy for comparison…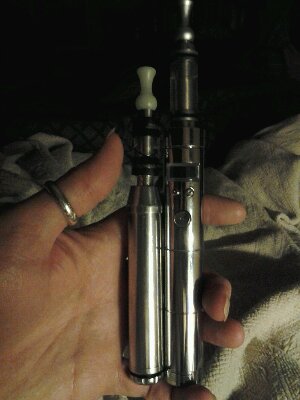 After that whole quest was over, Terra and Wesley did some homework while I tinkered, then he played The Cave on PS3 while we watched and gently guided. This is a new idea. Adding thinking, puzzle-solving games to his evening homework time.
Then, we listened to a Jungle Jam episode and then Second Shift 1.11. Next is the season finale! I love love love this show.
In other news, I think I'm over being sick but not done getting over being sick. Still unmotivated and tire easily.