This is great for feeding many people, feeding a few people a few times, or to freeze to have on hand.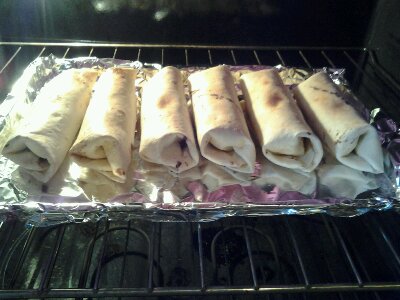 Simple as it sounds…
Firstly, I boil the chicken, drain it, shred it, season it, throw it back in the pot.
Then, I add whatever sounds good – diced tomatoes, green chiles, corn, black beans, pinto beans, onion, whatevs – and let that simmer a while.
Showing here…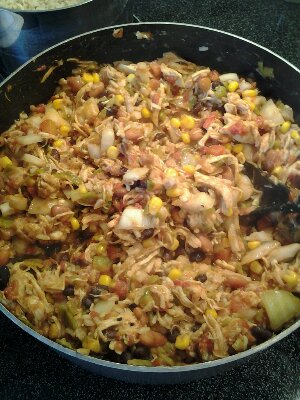 If I accidentally make it too liquidy, I just add some brown rice and cover it on low for a half hour or so. Or, I might add precooked rice anyway, just to stretch it further.
Put some on a flour tortilla, add some shredded cheese, some bell peppers, roll it up, put it on a cookie sheet.
Bake 25 mins or so @ 400.
They're crunchy and amazing.
The mix the way I make it is pretty mild for my culinary constituency but I add some crushed red pepper to the ones I roll for myself.
I throw the mix in the fridge and roll 'em up the next night for leftovers or even easy lunch. Also, I put some in a gallon freezer bag, flattened, in the freezer for a quick-thaw emergency meal. All you need is cheese or whatever toppings and, here in New Mexico, we always have tortillas on hand :)